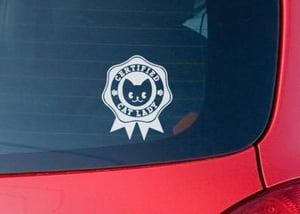 $

6.00
"Certified Cat Lady" Bumper Sticker 5X5 Transparent
This is a cat lady's must have bumper sticker! Custom designed by Sachie with a lot of creativity and love of course. This sticker is designed to go inside of the car window. We have 4X4 color I love fluff sticker available as well in our store.
Our stickers are printed on high quality materials with some of the most advanced printing equipment available.
Water Resistant
Our stickers are designed to withstand all weather conditions – rain or shine.
Sun Resistant
We use only the highest quality ink to print our stickers. So go ahead and slap your stickers outdoors. The ink is UV resistant, which means it won't fade or discolor for a few years - even in direct sunlight.
Removable
Want to remove your sticker? Don't want residue? No problem at all! Our stickers are made using a specially-treated adhesive so they peel off easily and leave no mark behind.